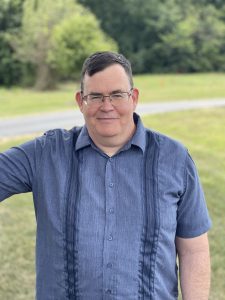 My wife, Anita, and I have been blessed with 24 years of marriage. I met her on New Year's Eve, asked her out by April, and proposed in September. We were married less than a year after we met. Advice to marriageable folk: If you know, why wait? If you don't know, why bother? 
 We have a wonderful son, Caleb. He is a fine, courageous, Christian young man who is well-educated, gainfully employed, healthy, and would make the right lady an excellent husbsnd. 
 Why did I become a teacher? It was a painfully close to being a whim. I had no plan. God did. Twenty one years later I have learned that there is no labor that is not blessed if done for God's glory, but I'm most happy teaching. 
When we joined South River and learned about Headwaters, Anita and I knew we had to support it in any way possible. The opportunity to teach middle school again was an answered prayer. It is a privilege and a great responsibility.  
It's impossible to single out any Bible book and equally impossible to choose a particular verse. However, Joshua has always been dear to me and considering our situation, Joshua 5:14 is most appropriate. 
I've always liked The Silver Chair. I've always considered Puddleglum the finest Narnian. We would all do well to emulate Puddleglum. 
I am happily married to my high school sweetheart, Dean. We have one daughter, Kirby, who lives and works in Charlotte. We have a very energetic boxer named Buddy, who keeps us on our toes. 
I chose to be a teacher because it is a profession of hope. Teachers impacted my life in a positive way and I wanted to do the same.  
I chose to come to Headwaters because I felt God calling me to continue my teaching career in an atmosphere that would bring glory and honor to Him. 
It's hard to say what my favorite scripture is because there are so many, but today it's Psalms 18:30, "As for God, His way is perfect, the Word of the Lord is flawless. He is a shield for all who take comfort in Him." I love this scripture because we live in an imperfect world. It is a great comfort to know that the God we serve has no flaws and that He is our shield in this imperfect world. 
I am a lover of books. One of my favorite children's books is Bud, Not Buddy by Christopher Paul Curtis. It is filled with humor and hope as the main character faces many challenges as he searches for his father. It's told through the eyes of a young boy and the author clearly shows how important "family" and "belonging" are for all of us. We all long for relationships. The correlation can be drawn that all humans long for a relationship with their Heavenly Father. 
Hello! I'm Ms. Nicole. I am looking forward to teaching 4th grade this year! When I'm not at school I enjoy hanging out with my family.  Greg, my husband of 13 years, is working toward becoming a Physician Assistant. We have two sweet kiddos that come to Headwaters with me each day! Carver, my son, is in my 4th grade class this year, and my daughter, Navy, is in 3rd grade.  Another fun family fact is Ms. Kim is my mom and Mimi to my children! 
I have always wanted to be a teacher! When I was little, I would line my stuffed animals up and "play school" with them. All throughout my school years I knew I would be a teacher one day.  I attended Lenoir Rhyne College and earned a degree in Elementary Education.  Right after college, I worked at a public school for 5 years here, in Statesville.   
After 5 years of teaching, my husband and I had our first child.  We then decided I would stay home to raise our babies.  When it came time to choose a school for Carver the Lord really impressed upon my heart a desire to homeschool.  We were a homeschool family for 3 years and loved it! When Headwaters opened last year, I was already looking to go back into the classroom because of my husband's upcoming school load.  Headwaters was 100% an answer to prayer for our family.  We had prayed HARD about a school where I could work, and our children could attend as well. Our family was so grateful to be at a place where we could pray, study God's word daily, and grow in our faith while learning though a Christ centered environment. It was the best transition for all of us, and we are thrilled to be back again this year.   
I love this scripture because I can cling to the fact that our God is immutable. In this life of ever-changing circumstances, HE is my constant.  It brings me such peace and comfort to know I can run to Him because He is eternally unchanging.  Such JOY to know He is forever my faithful King.  I love the whole book of Hebrews really because it reveals so much of the glory of who Christ is 
My favorite children's book absolutely has to be Charlotte's Web by E.B. White. I've probably read this book 50 times.  When I was younger, I loved the story of friendship and the changing seasons at the barn.  I loved how the author would paint these elaborate pictures in my mind.  As I have grown and begun to read to my students and my even my own children, I cherish the story of growing up and the changing seasons of life.  There are so many wonderful life lessons to reflect on and discuss with this classic. 
My name is Anita Long. I am an Iredell County native. I live in Statesville with my husband, Jerry, of 24 years. We have one son, Caleb, who graduated this year. We were blessed to homeschool most of Caleb's schooling years. We also have a dog named Molly.
My mom was a teacher. I grew up spending extra days and hours before and after school helping mom and the other teachers. I have always loved learning and working with children. That, alongside my mom's example and the Lord's leading, brought me to become a teacher.
When my family joined South River, we learned of the mission and Gospel-centered focus of Headwaters. I wanted to support the efforts to lead children to Christ and nurture a life long love of learning here at Headwaters. God was at work, and made it clear that we could be used in this ministry. While returning to the classroom was not in my vision for the future, it was in God's plan. I am excited to see Him work this year at Headwaters!
To name a single scripture as a favorite is most difficult! I am encouraged and challenged by the Psalms. I am amazed at God's sovereignty in the lives of Joseph and Esther and many others. My favorite chapter is Romans 8. I can read this passage and be reminded of the blessed hope the Father has given me through Jesus Christ. I am His forever!
To name a favorite children's book is also a challenge! I love books. I especially love read alouds! Over my years teaching and the hours reading with Caleb, two of my favorites are *My Great Aunt Arizona,* by Gloria Houston, which tells the story of a teacher who lived a simple life and passed her love of learning to her students, and *The Last Battle*, by C.S. Lewis. The description of Aslan's country has always been a treasure. Looking forward to the wonders of Heaven and going "further up and further in!"
I have always had the desire to marry and have children but that was not God's plan for my life so I will tell you about the only family I've known. I am the middle child in a family of 5. My siblings and I are close in age. I have 2 brothers (both live in Western NY) and 2 sisters (one in TN and one in Western NY). I always enjoy visiting family on the holidays because they don't live close enough to see on a regular basis. My parents were married for 46 years before my dad passed away (March of 2000) from lung cancer and my mom passed away (January of 2003) of what they believe was a stroke or heart attack. It was a sad time for me, but the Lord helped me through it all. I looks forward to seeing what the Lord has for me as I seek to live for Him in my daily walk with Him.
Because I have no children, I tend to "adopt" my class each year and call them my "little family from God" for the year.
The Lord has always given me the desire to teach young children as far as I can remember. After I got saved, I couldn't think of a better place to teach at than a Christian school where I can teach children God's Word (the Bible) and making it "real" in their lives. I believe that, as stated in Deuteronomy 6:6-9, the responsibility of a child's education is given to the parent, but I want to be used as a tool in assisting the parent in carrying out this personal responsibility. I would like to "work together with the common goal" of helping develop the children socially, academically, spiritually, and physically. Children need good role models because they are watching and imitating us every day.
I chose to come to Headwaters Christian Academy because after cashiering for the last 4 years I felt I needed to get back to what I love (teaching)! I prayed to the Lord and asked Him if He wanted me to get back to teaching again, that He would present the opportunity for me. Soon after I prayed that prayer, a friend of mine told me about how South River Baptist Church was thinking of opening a school this Fall. I sent in my resume in, and the rest is history. :0)
There are so many favorite scripture verses, but I will choose my very first. It's Philippians 6:1 "being confident of this, that he who began a good work in you will carry it on to completion until the day of Christ Jesus." It's good to be reminded that He is molding me and making me to be more and more like Him every day of my life to the end. And that He will not quit in the middle of this process but will continue to mold me to the end (or should I say beginning)!
My favorite children's book as a child was "Are You My Mother" by P.D. Eastman. I had a close relationship with my mother and the book pretty much sums up the fact that there is no closer bond than the bond between a mother and her child.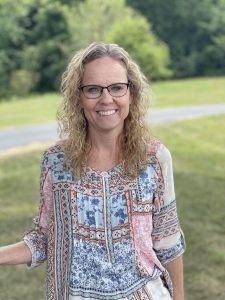 Hello, My name is Angie Eudy. My husband, Joe and I have been married for twenty two years and we have three children. Lauren, 19, Michael, 17, and Matthew, 15.
I started teaching when my daughter was five. I homeschooled for six years and have been teaching in Christian schools for the past eight years. I have always enjoyed working with children!! They are truly a blessing to me!!
I decided to come to Headwaters because I have always wanted the freedom to teach using the Charlotte Mason Method. I believe in the vision of Headwaters and I am humbled to be a part of what the Lord has and continues to do here.
My favorite children's book is Madeline. I love all the colorful illustrations and fun storyline! I also have great memories of reading this book to my children.
My favorite scripture verse is Romans 8:28. And we know that in all things God works for the good of those who love him, who have been called according to his purpose. I have watched the Lord fulfill this scripture in my life countless times.